During my trip to Kagoshima we received an invitation to try a french restaurant called Le Ciel, located in the Shiroyama hotel. It's a restaraunt with in a dreamy location with a beautiful view. The food is classical fine french with a japanese twist. The restaurant itself is on the top floor so you can enjoy a breath taking view over the city of Kagoshima during your dinner. We were offered to try the five course meal. The menu had strong french influences yet you could find also japanese ingredients from the dishes. The food was well prepared and the execution of the dishes was beautiful. I really liked the Seafood part of the menu which included Sea bream and Scallop Poiree with a Champange Sauce.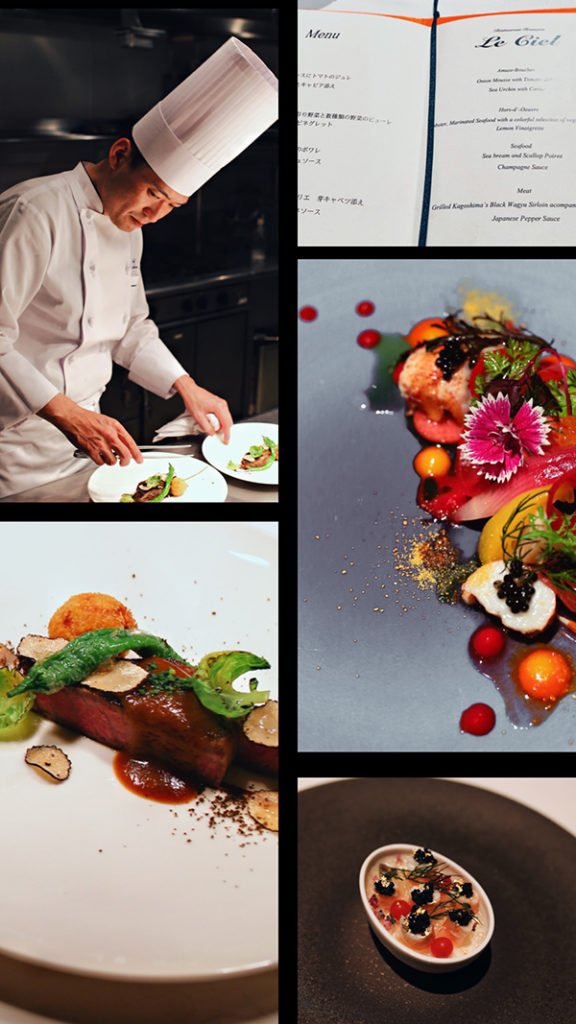 The dish that stood out was the Grilled Kagoshima's Black Wagyu Sirloin — it was excellent– the meat was top quality and cooked to perfection. The dessert was not memoriable compared to the starters and main dish. The amount of food was good and the fresh ingredients enjoyable.
Our service was really atentative and polite even though we had a bit of a language barrier that caused minor challenges during the course of our meal.  Letting the server recommend the dishes is the way to go. The atmosphere in the restaurant was warm and harmonious and we enjoyed the dining experience so well that we ended up being the last customers at the restaurant.

What a lovely experience this was all together. This restaurant is the perfect spot for a romantic date or having a fancy dinner with friends and also a great place to have business dinners. Enjoy the flavors, atmosphere and the beautiful view of Kagoshima at the same time at Le Ciel!
Le Ciel Menu
Amuse-Bouches
Onion Mousse with Tomato Gelee
Sea Urchin with Caviar
Hors-d' -Oeuvre
Lobster, Marinated Seafood with a colorful selection of vegetables and puree
Lemon Vinaigrette
Seafood
Sea bream and Scallop Poiree
Champagne Sauce
Meat
Grilled Kagoshima's Black Wagyu Sirloin acompanied with Brussels sprouts
Japanese Pepper Sauce
Dessert
Foret-Noire