In January I enjoy long walks outdoors and the crisp winter weather. Even my little Chihuahua Amelié loves the snowy walks! After the outdoor activities it is wonderful to return to a warm home and enjoy for example a cup of hot chocolate with marshmallows.
January consists of snow and frost, skiing and ice skating and delicious moments in front of the fireplace; hot soups, rich pastas and freshly baked buns.
Sticky Cinnamon Maple syrup Buns
Dough
5 dl milk
50 g yeast
1-2 tsp salt
2 dl sugar
1 egg
about 15 dl wheat flour
150 g butter, room temperatured
Cinnamon Suryp
1½ dl brown sugar
¾ dl maple syrup
3 tbsp honey
2 tbsp cinnamon
3 tbsp butter
few drops of vanilla extract
Inside
100-150 g butter, room temperatured
Egg wash
1 egg
Frosting
1 dl icing sugar
splash of water
Dissolve the yeast in hand temperatured water. Add salt, sugar, cardamomm and egg. Start adding one half of the wheat flour little by little, first whisking so the dough collects some air in it. Next, add the softened, room temperatured butter and then the rest of the flour. Set the dought in a warm place and let it rise until it is almost doubled its size.
Meanwhile, prepare the cinnamon syrup. Put all of the ingredients in a pot and simmer the mixture for a few minutes. Let the suryp cool down. You can always make double patch of the suryp, if you want the buns to be extra sticky and moist.
On a lightly flouered surface, roll out the dough into a thin rectangle, and spread a generous layer of cinnamon syrup on it. On top of the suryp, spread a thin layer of softened butter.
Starting at the end, thightly roll up the dough and situate seam side down. Cut the rolled dough into 4 – 5 cm pieces and set them into a slightly buttered casserole or pan. Let the bun rise for other 15 minutes.
Heat up the oven to 200°c. Egg wash the buns and bake them in the lower level of the oven dor about 20 to 25 minutes.
Prepare the frosting by mixing the icing sugar with a splash of water. Spread the frosting on top of the baked buns.
Entrecôte steak, bacon hash browns & rose pepper butter
4 portions
4 t-bone steaks
1 tbsp butter
1 tbsp oil
salt & black pepper
Bacon Hash Browns
1 tbsp butter
2 tbsp oil
600 g potatoes, cooked, cut into cubes
200 g bacon, cut into small cubes
1 onion, chopped
1 tsp garlic, grated
2 dl cream
1 tbsp honey
2 tsp Dijon mustard
salt & black pepper
1 bunch of dill, chopped
Rose pepper butter
100 g butter
20 g blue cheese
3 tsp rose peppers
salt & black pepper
Start by taking the t-bone steaks into room temperature. Then prepare the rose pepper butter by mixing all the ingredients together in a bowl. Shape the butter mixture into a thick stick and wrap it in plastic klingfilm. Put the butter stick into the fridge to solidify and then cut it into chunks.
On a large pan, heat up butter and oil and fry the potatoe cubes until golden brown and slightly crispy. Add the bacon and keep fying. Add onion and garlic and sautée for a couple of minutes. Then add cream, honey, dijon mustard and spices. Let the bacon potatoes simmer until the cream has thickened. Take the pan from the heat and add the chopped dill.
Finally, let's roast the steaks! Heat up a skillet and add butter and some oil. Put the steaks on a pan and fry them for 3 – 4 minutes both sides, depending on how done you like the steaks. Season with salt and black pepper and serve the steaks with the fried bacon potatoes and rose pepper butter chunks.
Smooth cauliflower soup
2-4 portions
Soup
1 cauliflower, cut into large blocks
2 tbsp olive oil
1 onion, finely chopped
2 garlic gloves, finely chopped
6 dl vegetable stock
3 dl milk
splash of safron
3 dl cream
splash of curry podwer
1 – 2 tsp salt
some black pepper
(a drop of truffle oil, optional)
Parma breadstick twists
1 pkg (500g) puff pastry
1 egg
8 slices parma ham
Start by preparing the Parma breadstick twists. Cut the puff pastry into thin strips and egg wash them. Wrap the puff pastry strips with parma ham slices and twist the strips a little. Heat up the oven to 225°c and bake the breadsticks for about 15 minutes, until they are golden brown and crispy.
Next prepare the soup. In a pot heat up the olive oil in and sautée the onion and the garlic. Then add the cauliflower blocks and, vegetable stock, milk and safron and let it simmer for 15-20 minutes, until the cauliflower is cooked.
Blend the soup until smooth with a hand mixer or in a blender. Add the cream, curry and the rest of the spices and let the soup simmer for a couple of minutes more so the flavours get together nicley. Serve the ready soup with the Parma breadstick twists.
Chorizo-Vodkapasta
2 – 4 portions
2 tbsp olive oil
2 tsp garlig, grated
¾ dl vodka
2 tbsp tomato paste
3½ dl cream
250 g pasta, cooked until al dente
70 g chorizo sausage, sliced
1 tbsp capers
3 tbsp black olives
1 box cherry tomatoes
salt
black pepper
sugar
some grated parmeggiano cheese & chopped basil to garnish
Heat up a splash of olive oil on a pan and sautée the garlic. Then add the vodka, tomato paste and cream and bring to boil. Simmer the sauce for about 10 minutes.
Add the al dente pasta, sliced chorizo, capers and olives. Finally add also the cherry tomatoes and let them soften a little bit, maybe for 1-2 minutes. Season with spices and check the flavours. Garnish with parmeggiano and basil.
Chocolate fondant
5 – 6 portions
200 g dark chocolate (70% cocoa)
200 g butter
1½ dl flour
6 eggs
2 dl sugar
cocoa powder
Heat up the oven to 180°c. Butter 8 muffin moulds (or other small cake tins) and sprinkle them some cocoa powder.
Break chocolate into small pieces and slowly melt it with butter in a water bath. When chocolate and butter are melted add flour and mix well.
With an electric whisk, whisk eggs and sugar until thick and pale foam. Combine the chocolate-butter-flour mixture little by little with the foam and mix gently until you have a smooth cake batter.
Pour the chocolate batter into the moulds and cook them in the oven for about 12 – 14 minutes. The surface of the fondant should be baked and crispy and the inside is supposed to gutter when cut open. You can serve the fondants with ice-cream if you like.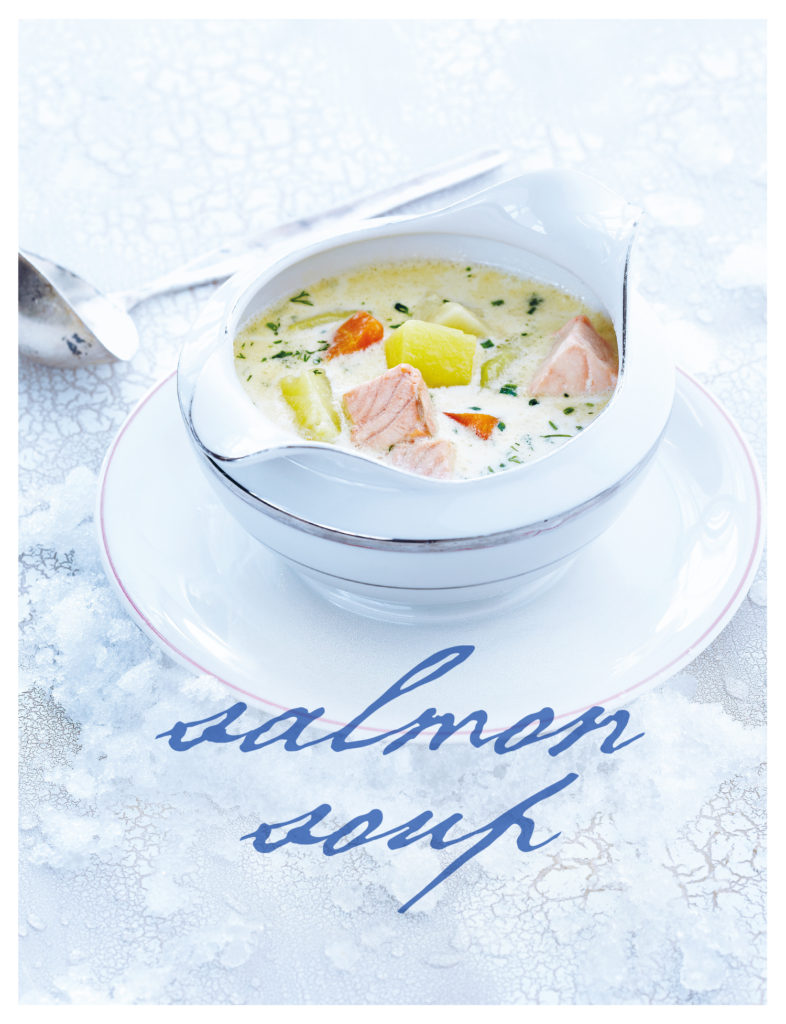 Salmon Soup
5 portions
1 tbsp butter
1 onion, chopped
2 l fish stock
8 black peppers, whole
2 bay leaves
300 g potatoes, peeled, cut into big chunks
100 g carrot, peeled, cut into medium cubes
100 g parsnip, peeled, cut into medium cubes
4 dl cream
black pepper
salt
1 tbsp sugar
300 g salmon, cut into big chunks
1 tbsp fresh dill, chopped
Garnish with salmon roe (optional)
Start by heating up the butter in a pot and sautée the onion delicately. Add all of the fish stock, black peppers and bay leaves. Let the stock simmer until the onion is softened. Then add the potatoes and let them boil for a couple of minutes. Add carrot and parsnip cubes and boil them until all the vegetables are cooked.
Meanwhile, heat up the cream in a small pot and keep boiling carefully to reduce it a little bit – you don't want to burn it! Add the reduced cream to the soup and season with salt, black pepper and sugar. At last, add the salmon chunks and let the soup simmer for few minutes so the salmon cooks. Take the pot from the heat and garnish it with fresh dill and salmon roe, if you prefer.
Delicious Coconut Cakes
6 – 7 portions
150 g butter
4 eggs, whites and yolks separated
1 tsp vanilla extract
13 drops almond extract
2 dl coconut cream
1 ½ tsp baking powder
1 ¼ dl cream
Coconut syrup for moistening
2 tbsp lemon juice
3 tbsp amaretto liqueur
3 tbsp icing sugar
2 tbsp coconut cream
Fosting
50 g margarine
3 ½ dl icing sugar
2 tbsp cream cheese
2 tbsp coconut cream
1–2 tsp lemon juice
Coconut flakes to garnish
Heat up the oven to 180°c. Butter and flour 6–8 small metal cake molds.
Whish butter and sugar with a hand mixer. Add egg yolks one by one and keep mixing. Add vanilla and almond extracts and coconut cream and mix well together.
In another bowl, mix all the dry ingredients together and start adding them little by little to the dough. Next add the cream and mix.
Whisk egg whites until thick foam and mix it to the dought carefully. Remember, you don't want to loose the airiness of the egg white foam!
Divide the dought into the small cake molds and bake them in the oven for about 30–40 minutes. Now mix all the ingredients of the Coconut syrup. Let the ready baked cakes cool down and moisten them with the coconut syrup using a small brush.
Finally, prepare the frosting by mixing all the ingredients together in a bowl with a hand mixer. Decorate the cakes with the frosting and garnish them with some coconut flakes.
Enjoy!
Love,
Sara