Kaupallisessa yhteistyössä The Vegetarian Butcher kanssa
In paid collaboration with The Vegetarian Butcher
K-Kauppoissa on myynnissä tosi makea brändi – The Vegetarian Butcher. Kasvispohjaisten tuotteiden valikoimaan kuuluvat Vegetarian Butcher Magic Mince, Chickened Out Chunks, Unbelievabull Burger, Lucky Nuggets ja Big Banger. Löydät ne K-kauppojen pakasteosastoilta!
Tällä kertaa tein herkullisen hampurilaisen kasvipohjaisesta Vegetarian Butcher Unbelievabull Burger pakastepihvista. Pihvi tuoksuu ja maistuu naudanlihalta, mutta se on kasvipohjaista. Tärkeimmät ainesosat ovat kestävä soija, vehnä, kasviöljy, yrtit ja sipuli. Se on kehitetty erityisesti lihan ystäville – niille, jotka haluavat jättää lihan pois ruokavaliostaan pariksi päiväksi viikossa, mutta eivät halua tinkiä mausta. Aiemmin kasvipohjaiset ruokavaliot olivat kasvissyöjien ja vegaanien valinta, mutta kysyntä on kasvanut, kun kuluttajat yhä useammin valitsevat kasvipohjaisia tuotteita.
Saran Unbelievabull Burger
1 pussi hampurilaissämpylöitä
The Vegetarian Butcher Unbelievabull Burger 160 g pakaste
Purkki aurinkokuivattuja tomaatteja
Auringonkukan ituja, erilaisia vihreitä gourmet versoja koristeeksi
Tryffelimajoneesi
3 rkl vegan majoneesia
1/2 tl tryffeliöljyä
1/2 tl hunajaa
suolaa
Chilimajoneesi
3 rkl vegan majoneesia
1 tl smoked paprikaa
1 tl chiliketsuppia
suolaa
Guacamole
2 kpl avocadoa muusattuna
1/2 limemehua
suolaa
Portobello
4 kpl portobelloa
oliiviöljyä
suolaa, mustapippuria
Punainen sipuli
Leikkaa sipuli renkaiksi.
1 /2 dl vettä
3-4 rkl sokeria
2 rkl omenaviinietikkaa
suolaa
Asettele portobello sienet uunipellille ylösalaisin.
Mausta sienet suolalla ja mustapippurilla ja lisää reilusti oliiviöljyä.
Laita sienet 200 asteeseen uuniin 200 asteeseen noin 15 minuutiksi.
Laita uuniin myös The Vegetarian Butcher unbelievabull burger pihvit lämpenemään.
Lämmitä sämpylöitä 2 – 5 minuuttia uunissa.
Keitä sipulin liemi, lisää leikatut sipulirenkaat ja anna niiden pehmetä liemessä.
Sekoita majoneesi, tryffeliöljy, hunaja ja suola pieneen astiaan.
Sekoita majoneesi, smoked paprika, chiliketsuppi ja suola toiseen astiaan.
Valmista guacamole – mausta muusattu avocado puolikkaalla limen mehulla ja suolalla.
Kokoa burgeri. Levitä sämpylöiden pinnoille tryffelimajoneesia, lisää salaatinlehtiä ja Unbelievabull Burger pihvi.
Seuraavaksi lisätään guacamole, chilimajoneesi, sipulit, kuivatut tomaatit, portobello sieni, gourmet versot ja
tryffelimajoneesi.
Sulje sämpylän puolikkaalla ja nauti makuelämyksistä!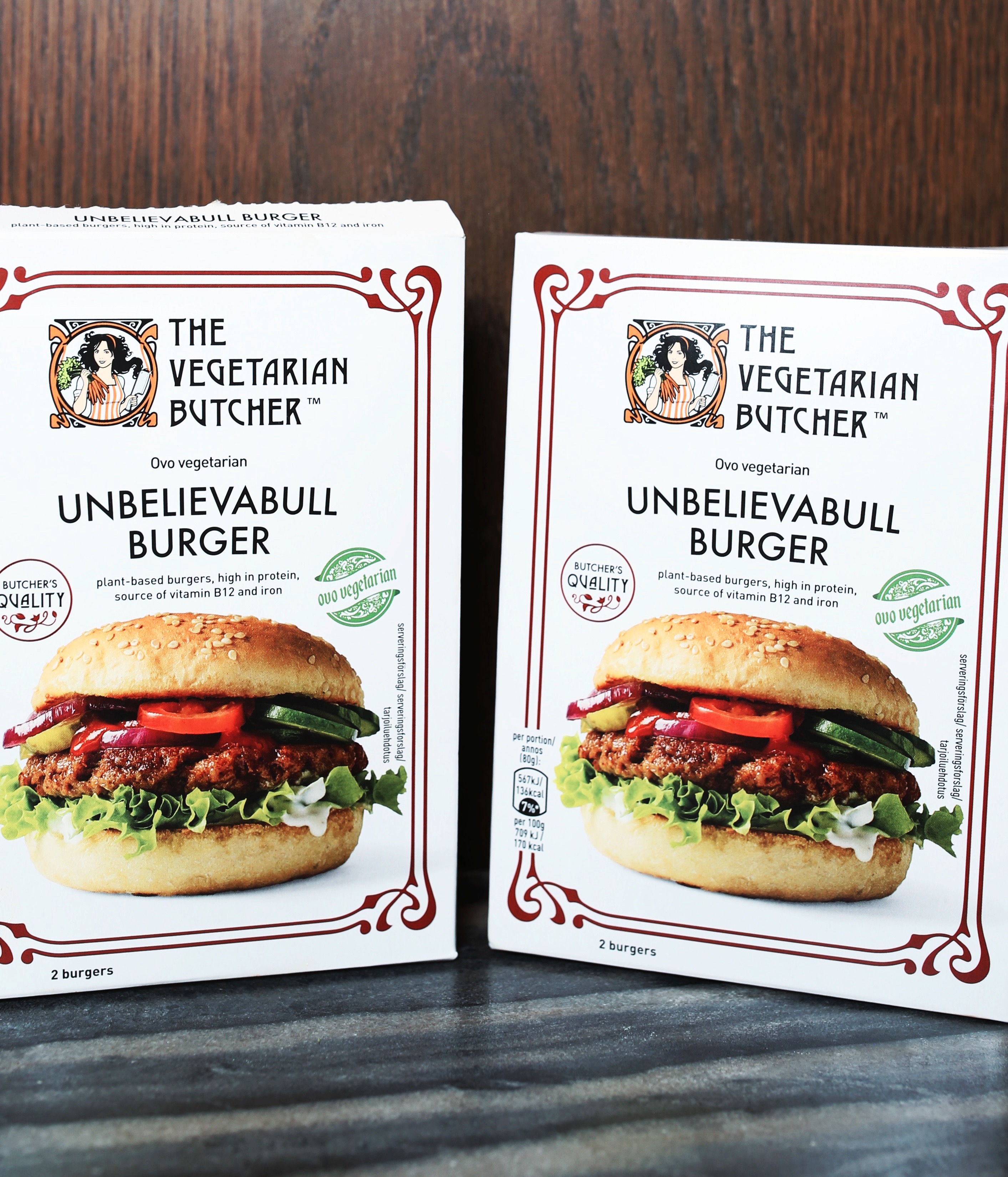 In paid collaboration with The Vegetarian Butcher
K-Stores sells a cool new brand – The Vegetarian Butcher vegetable-based frozen products; Vegetarian Butcher Magic Mince, chickened Out Chunks, Unbelievabull Burger, Lucky Nuggets, and Big Bangers novelties – you can find them in K-stores in the frozen food departments. Take a look, try them all, and find your own Vegetarian Butcher favorite!
This time I made a delicious burger from Vegetarian Butcher Unbelievabull Burger plant-based patty. The patty smells, cooks, and tastes like beef, but it's plant-based. The main ingredients are sustainable soy, wheat, vegetable oil, herbs, and onion. It's been developed specifically with meat lovers in mind – people who want to leave the meat out of their diet for a couple of days a week but don't want to compromise on flavor. In the past, plant-based diets were the preserve of vegetarians and vegans. But demand has grown as consumers increasingly choose plant-based
products for various reasons.
Sara´s Unbelievabull Burger
1 bag of burger buns
The Vegetarian Butcher unbelievabull burger 160 g frozen
1 jar of sun-dried tomatoes
Sunflower seeds and green gourmet shoots
Truffle mayonnaise
3 tablespoons vegan mayonnaise
1/2 teaspoon truffle oil
1/2 teaspoon honey
salt
Chili mayonnaise
3 tablespoons vegan mayonnaise
1 teaspoon smoked peppers
1 teaspoon chili soup
salt
Guacamole
2 pieces of avocado
1/2 lime juice
salt, black pepper
Portobello
2-4 pieces of portobello
oil
salt
Red union
Cut the onion into rings
1 /2 dl water
3-4 rkl sugar
2 rkl apple winegar
salt
Put the Portobello mushrooms on the baking sheet upside down.
Season the mushrooms with salt and black pepper and add plenty of olive oil.
Put the mushrooms in a 200 degree oven at 200 degrees for about 15 minutes.
Also, put the Vegetarian Butcher unbelievabull burger steaks in the oven to warm up.
Heat the rolls for 2 to 5 minutes in the oven.
Boil the onion broth, add the cut onion rings, and let them soften in the broth.
Mix mayonnaise, truffle oil, honey, and salt in a small bowl.
Stir in the mayonnaise, smoked peppers, chili soup, and salt in another bowl.
Prepare guacamole – seasoned avocado with half lime juice and salt.
Assemble the burger. Spread truffle mayonnaise on tops, add lettuce leaves and unbelievabull burger steak.
Next, add the guacamole, chili mayonnaise, onions, dried tomatoes, portobello mushroom, gourmet shoots, and truffle mayonnaise.
Close the bun in half and enjoy the taste experiences!